Moscow live guided english speaking boat tour
Cruises that might also interest you:
Moscow Sightseeing River Cruise
HIT SALES!
Every day, from April 24th, 2020
Departure from the piers Novospassky most (Proletarskaya metro station), Bolshoy Ustyinsky most (Kitay-Gorod metro station), Krymsky most (Park Kultury metro station), Vorobievi Gori (Vorobievi Gori metro station), Gorky Park (Frunzenskaya metro station)
2 hours — duration of the cruise

The central Moscow river walk is a two-hour route around the center of the capital from the Novospassky Bridge to the Vorobyievi Gori and back. The line is served by comfortable two-deck boats, throughout the cruise guests are welcome to enjoy a variety of snacks, hot and cold dishes, soft drinks and hard liquor.

You can hop on at any pier you like, thus having the opportunity to plan you own itinerary, and still experience the whole walk hopping off exactly where you hopped on.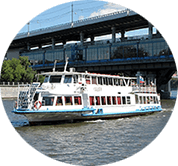 Sadko boat
type Moskva

up to 180 passengers


bicycles permitted
restaurant & bar
air conditioning system
audio system
warm blankets
WC

---
A River Cruise Through the Center of Moscow Aboard a Modern Snegiri Boat
EXCLUSIVE!
Navigation—2019 is over
Departure every hour from the piers Bolshoy Ustyinsky most (Kitay-Gorod metro station) and Kievsky vokzal (Kievskaya metro station)
3 hours — duration of the cruise

Join us for an exclusive river cruise through the center of Moscow aboard a modern Snegiri ferry boat. Admire some of the most magnificent attractions of Moscow: Zaryadye Park, the Moscow Kremlin, Saint Basil's Cathedral, the Cathedral of Christ the Saviour, Peter the Great Statue and many others. On the open deck of the ship always sounds nice music, and on the main deck is an exciting tour, and guests are also welcome to our bar offering a wide range of snacks, appetisers and soft drinks.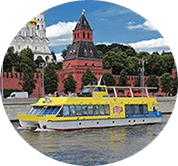 Snegiri-1 boat
19.2509 project

up to 250 passengers


bicycles permitted
audio guide (in russian)
cafe & bar
air conditioning
audio system
WC

Moscow Premier Сruise with Dinner and Live Music
EXCLUSIVE!
Every day, from April 17th, 2020
Departure from the Mezdunarodnaya Vistavka pier
3 hours — duration of the cruise

Wine and dine aboard a double-deck snow-white Solaris Yacht! Feast on a delicious dinner down the Moscow river with yachts sailing from Moscow-city business center to the Kremlin and back. Also on the menu throughout the whole cruise: all the main landmarks of the capital accompanied by soft pop & lounge tunes performed live!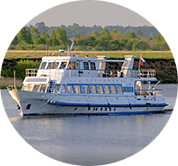 Solaris yacht
1430 project

up to 55 passengers
café & bar
air conditioning system
audio system
warm blankets
WC

---