Rivertickets.ru

past cruises


2018
---
Moscow live guided English speaking boat tour
NEW!
Navigation-2018 is over
Departure from Tretyakovsky pier at 13:00
1 hour– duration of the cruise

A river cruise around the Golden Island is a circular route along the very heart of Moscow with the boat able to glide through Vodootvodnoy Canal waters, inaccessible to large ships. During the cruise mesmerizing historic sights of the city center will unfold before you, and our English speaking guide will make sure your trip is not only pleasant but also wildly informative!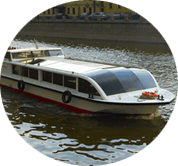 Pharaon boat

up to 50 passengers
guide (in english)
audio system
warm blankets
WC

---
Fireworks display on the Victory Day aboard a Snegiri boat
TOP EXCLUSIVE!
May 9th, 2018, Wednesday
Departure from the Andreevsky pier (Vorobievi Gory) at 9.30 p.m.
2 hours — duration of the cruise

Join us for a Victory Day celebration aboard our modern boats!

Take a gentle cruise on the Moscow river as a fine way to end the day or begin the night as you pass by Moscow's lit-up sites at their glittering best. Fabulous fireworks that could be enjoyed from the comfort of a heated glassed-in saloon will nicely complement your journey. After the fireworks show, the boat will head towards the city centre, and then, having reached the Moscow Kremlin, will turn back and later make a stop at the Bolshoy Kamenny Bridge (Greater Stone Bridge) Pier.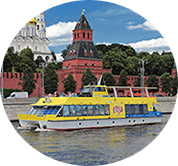 Snegiri boat
19.2509 project

up to 250 passengers


bicycles permitted
cafe & bar
air conditioning system
audio system
WC

---